---
Holistic Detox Recommendations
Practical & Effective Practices from Wellbeing Coach and Ayurveda Instructor Ebru Şinik
---
We all want to be better and happier, don't we? Yet, what do we do about it?
To what extent do we pay attention to how much we move in our daily lives, the quality of our food and beverage intake, establishing and developing balanced and nurturing relationships with family members, neighbors, coworkers, and our loved ones?
Do we include some practices that stabilize and nurture our body and mind in our daily lives? Or do we think of the qualities of nutrients that go into our mouths when we say detox?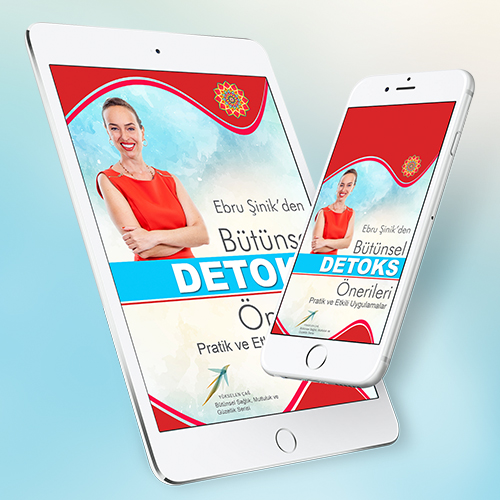 What is the first thing that pops into our minds when we hear the word detox? Is it staying hungry? What if I told you that you can only get the highest benefit out of detox when it is done holistically?
Holistic Detox Recommendations from Ebru Şinik overthrow what you have already known about the concept of detox, opening the door to a happier, healthier, more peaceful, more balanced, and a more cheerful life.
In this book, you are going to find the basic information on how you can be healthier and happier without having to use willpower, suffering, being hungry to the extent of being mentally depressed and being moody!
Headlines from "Holistic Detox Recommendations from Ebru Şinik – Practical and Effective Applications" which belongs to the book series of Yükselen Çağ Holistic Health, Happiness & Beauty Series:
What is Holistic Health and Well-aging? How is It Attained?
Things to Know While Detoxing
Breath, Breathing Techniques & Detox Effect in Daily Life
Which Breathing Technique Do You Need?
Is it Possible to Lose Weight by Practicing the Breathing Techniques?
Introduction to Ayurvedic Life
Ayurvedic Nutrition & Its Basic Principles
How can You Control Your Desire for Excessive Eating?
The Miraculous Importance of Massage in the Process of Detox
Mediation: The Key to Mental Detox
The book "Holistic Detox Recommendations from Ebru Şinik – Practical and Effective Applications" is available on the market on digital platforms so that you can access it much more easily and download it to your smartphone, computer, or tablet just to read immediately.

s