Ayurvedic Yoga Therapist Certification Program
Yükselen Çağ Wellbeing Academy | Certification Programs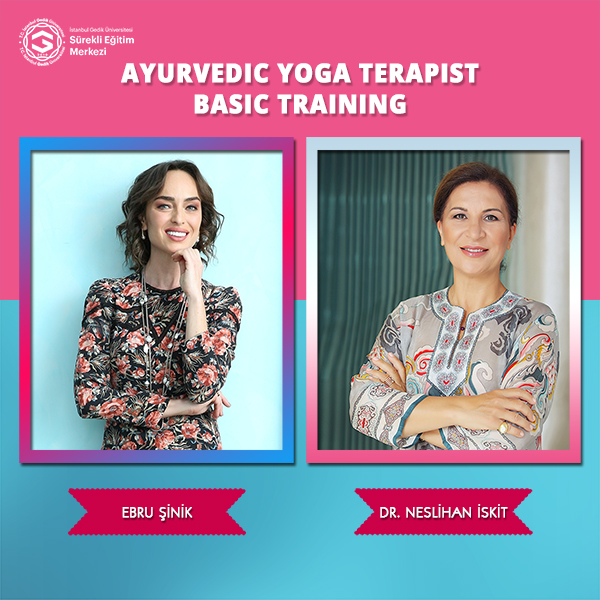 This certification program organized by Yükselen Çağ Wellbeing Academy, is an introduction to Ayurvedic Yoga Therapist Training and has been designed to primarily enhance your state of holistic health, happiness, and wellbeing in order to initiate your well-aging, which is the process of aging happily and healthily.
This training series, which consist of a curriculum program that lasts a total of 460 hours, is carried out online and interactively for two weekends in a month over the course of 5 months by Wellbeing& Ayurveda Instructor Ebru Şinik and Doctor Neslihan İskit, who are both experts in their fields.
The participants who succeed in the exam that is given at the end of the training program will receive the certificate of Ayurvedic Yoga Therapist Basic Training approved by ISTANBUL GEDİK UNIVERSITY.
The topics taught in the Basic Training by Ebru Şinik are as follows:
Introduction to Ayurvedic Lifestyle
The structural characteristics of Body & Mind according to constitution types and detailed Food and Nutrition Lists for Doshas
Spice Usage recommendations and Tea Recipes according to body constitution needs
Contraindications, benefits, and detailed applications of breathing techniques
Seasonal routines, Seasonal Detox Recommendations, Ayurvedic Recommendations for Well-being and Well-aging
Healing Methods via 5 Senses based on our doshas
Chopra Center Certified Meditation Training
Emotional Detox Protocol
The headlines of the topics to be shared in Basic Training by Dr. Neslihan İskit, who has been working with heart patients, cancer patients, pregnant women and children at the Memorial Hospital for the last 17 years are as follows:
Comprehensive Human Anatomy and Physiology
Cardiovascular Diseases, Respiratory Disorders, Yoga Therapy Asana, breathing and relaxation techniques for Oncology Patients
Yoga Therapy asana, breathing and relaxation techniques for Muscle and Skeleton System Diseases
Yoga Therapy asana, breathing and relaxation techniques in the treatment of Depression and Anxiety
Introduction to subdoshas, the meditation of the five vayus, asanas to trigger motion in the vayus, the kriyas and pranamaya
Who can attend this training?
Those who would like to lead a better, healthier, happier, and more balanced life by raising their awareness about the body and mind
Those who would like to attain their ideal body shape and keep it permanently without dieting and using willpower but by raising their awareness
Those who want to heal the aches and pains that occur in their body from time to time by learning yoga therapy practices
Yoga instructors who would like to support their counselees and students in the healing process of their various symptoms
Yoga Students
It is a program that raises the general awareness about life, and is open to all, including healthcare professionals.
This certificate program is currently taught in Turkish only and you can click on this link to review the Basic Training curriculum.

Review The Basic Training Curriculum

s