---
The Graduation Of Gedik University Wellbeing Coach Certification Program
---
Meet the world's first Wellbeing Coaches!
Wellbeing Coaching, the Profession of the Present and the Future
The First and the Second Term Graduates Certification Ceremony of the world's first Wellbeing Coaching Program, which Ebru Şinik initiated in April 2020 under the umbrella of Gedik University as soon as the pandemic began, was held on April 2, 2021.
The certification ceremony of our students who pursued the Wellbeing Coaching Program from all over the world was held in the conference hall of Istanbul Gedik University Vocational School with both physical and online participation.
Some of our students who were not able to physically participate in the graduation ceremony due to the pandemic had online presence in the graduation hall and the ceremony was attended by distinguished Hülya Gedik, the chairman of Gedik University Board of Trustees.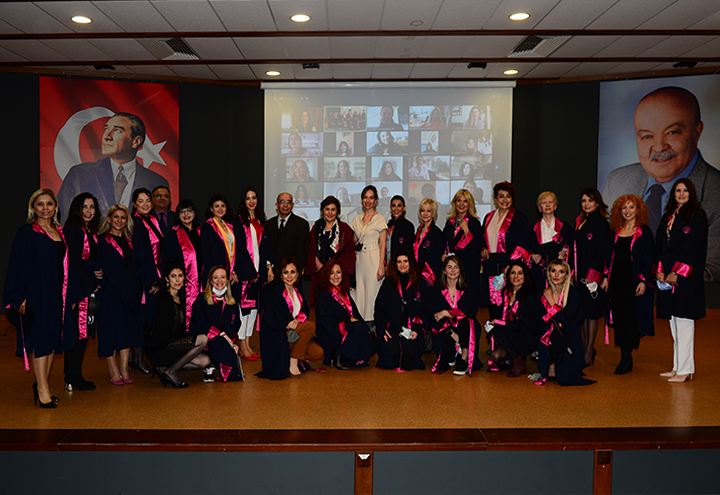 Gedik Holding is one of the eminent and rare holdings that set an example with all its subsidiaries in our country in terms of the advancement, progress and self-existence of women by creating space and opportunities for them in industrial, educational, gastronomical, and service-related fields. Gedik University, which is a subsidiary of Gedik Holding, is rapidly growing with confident steps and a huge staff that offer the highest quality education infrastructure in Turkey. As Yükselen Çağ Wellbeing Academy, we are honored and proud to be a part of this movement.
Below is an excerpt from Ebru Şinik's speech at the graduation ceremony;
"It is certainly the women who render the world more beautiful, heal and make it a better place to live! YOU should be the architect, scenarist, cinematographer, and the lead actress of your life and never give up creating the Best Version of Yourself, which is your birth right in this life! If you intend to step into the profession of the future or create the Best Version of Yourself in this life, this program is cut out for you! Let us all start spreading this light to everyone we can reach by learning to balance our Body and Mind!"

s